Within the hierarchy of basic human needs, being able to feed oneself is vital. This skill soon evolved into the art of agriculture. However, in the modern world, the population is growing lightning fast and the demand for more efficient agricultural practices is soaring. To address this problem, people turned to farm technology.
Hence, a pressing concern today is how to feed more people with fewer resources. To give you an idea, the world's population is expected to reach 9.7 billion by 2050, necessitating a 70% increase in the amount of organic food that can be consumed. The solution was found in precision agriculture. Let's take a look at how precision farming helps tackle the challenge and opens the doors for innovative tech solutions, like the latest trend in apps for agriculture.
Precision Agriculture Outlook
Agriculture is being progressively overtaken by modern technology, and this trend doesn't appear to be slowing down anytime soon. The farming industry has become rich not only in crops but also in data.
Such a data-driven agricultural landscape requires new farm management solutions, like agriculture application. But not only applications are the basis of modern smart agriculture. The use of information technology (IT) has contributed to the formation of an entirely new science of precision agriculture. This means the concept of bringing technology into agriculture to process all the data it produces and extract valuable insights from that data.
As statistics show, by 2030, the precision agriculture market will be worth USD 20.84 billion, with a CAGR of 12.8% during that time. Precision (satellite) farming presents a whole new tech-oriented approach to running an agribusiness and guarantees the most optimal health and productivity of crops and livestock. Further, the current research says the worldwide farm management software market has the potential to grow from USD 921.4 million in 2021 to USD 1982.8 million by 2028, at a predicted CAGR of 11.4% from 2022 to 2028.
With these numbers in mind, we can see that the adoption of agricultural tech is increasing. In total, almost half of the global agriculture manpower prefers at least one type of smart farming technology in their workflow. As such, precision agriculture software is soon to gain a firm foothold in the market, since they can scale your business and modify agriculture ERP (Enterprise Resource Planning).
Nowadays, farming is a difficult economic endeavor that places high demands on farm management information systems. An ERP solution helps to meet these needs. Agricultural ERP systems are often combined with information applications to provide the best service possible to all agricultural firms.
Read also: How Virtual and Augmented Reality Help ​​Agriculture

Learn how innovative farm technologies can transform agriculture
Modern enterprise systems provide a strong foundation on which precision agricultural businesses may develop and expand. Our Visartech team provides cloud computing services, SaaS solution engineering in particular, and ERP development is on our list of competencies.
Therefore, precision farming solutions assist agricultural companies in using cutting-edge automation techniques. These technologies, in turn, reduce labor and material costs, identify better business choices, monitor soil reserves and conditions, and use intelligent water management. Precision agriculture heavily relies on specialized software products, which is why we decided to share with you our professional experience on how to build an agriculture solution.
What Are the Different Types of Precision Farming Applications
Observing and promptly responding to the variability in crops, fields, and livestock are the cornerstones of precision farming. Many agricultural applications popular in the industry represent digital agriculture in its various forms. Their rising popularity is mostly because they may boost production while lowering agriculture's negative environmental effects.
Let's discuss the main types of precision agriculture applications in more detail!
Variable Rate Application
VRA is a viable tech method for the automated application of materials to a specific terrain by using data from GPS, sensors, and maps. Drones, satellites, and hyperspectral agriculture imaging are just a few examples of the tech used in VTA to best maximize crop production.
Satellite-Based Application
Satellite images contain the most recent information on the farming field's health. This is achieved thanks to using modern satellite imagery for agriculture with high resolution, like the one provided by Planet Labs. Such a precision agriculture software product evaluates the true worth of the agricultural land. It allows agribusinesses to make important decisions that directly affect their yield outcomes.
Soil Mapping Platform
Without high-quality soil mapping, precision agriculture is incomplete. The soil mapping platforms require various sensors and geo-processing to evaluate the physical and chemical parameters of the soil. This data is used to perform real-time map monitoring, QA, data fusion, prescription writing, and input savings.
Site-Specific Crop Management System
SSCM stands for an idea in smart agriculture that centers on controlling, calculating, and responding to the variability of crop yields. The majority of existing SSCMs quantify spatially altering field conditions by using precise GPS together with site-specific observations.
AI-Powered Application
Controlling agricultural output with intelligent precision farming technology is a lot easier with advances in AI. Such applications can modify the watering and feeding of plants using image recognition technology. Drones and other aerial systems are another agriculture innovation. Such apps also help regulate essential information (i.e., soil and climate conditions) using IoT devices.
Planet Labs: What It Is and Key Features
Planet Labs provides daily satellite imagery by continually scanning the whole landmass of the Earth and providing in-depth analysis of its surface. How would this benefit agriculture, though?
In essence, the company uses satellite images in agriculture to fulfill the purpose of digital farming. Its users get the information they need to make informed decisions quickly, thanks to geospatial analytics delivered at the pace of change. A wide range of imaging and analytical options are accessible online via Planet's precision agriculture software and web-based tools.
What does a monitoring system for smart agriculture like Planet Labs do? Planet Labs satellite imagery for agriculture makes precision farming possible on a large scale, especially in areas with regular cloud cover. This app offers valuable information at every step of crop management with features like wide-ranging coverage, field-specific data, and quick access to the platform. Using cloud-based APIs, you can easily incorporate the data from Planet's app into your software.
Broad Area Coverage
Efficient decision-making in this sector can be facilitated by thorough and consistent imaging coverage of critical farming areas. Agricultural business owners know that surveying entire fields to identify a problem takes hours. However, the spatial image resolution and worldwide coverage of modern satellite imagery facilitate directed scouting. That saves time and operational costs. Presently, the in-season satellite monitoring of Planet Labs covers more than 11 million km2 of cropland across the world.
Field-Level Detail
With the real-time planet monitoring feature, Planet is a new agriculture software solution that delivers accurate and quality data at a worldwide level. A field-level accuracy provided by the application is at a resolution of 0.8 and 3-5 m. More specifically, great resolution multispectral data are gathered to offer in-field information with high positional accuracy of less than 10 m RMSE globally. It's ground-controlled by extremely high-resolution agriculture satellite imagery.
Rapid Access
Smart farm management solutions allow growers and their clients to plan more efficient seeding tactics. In this case, quick access to the apps for agriculture is critical, since it helps the farming businesses detect and act on the issues before they turn into serious damage to the yield. To handle this data, Planet implements a scalable cloud-based infrastructure. Various imagery sources are available through simple APIs, making them readily available and more suitable for applications related to precision agriculture.
Crop Management
Every agricultural enterprise must manage its crops during the growing season, and this is the area where an agriculture application may be most useful. If you know how to build an app for farm management, you can discover many opportunities provided by a responsible and accurate smart farming technology.
In a nutshell, Planet's crop management feature allows for enhancing the health analysis of the crops and detecting vegetation problems. Using the information provided by the agricultural app allows you to act exactly when and where it is needed. It's also a good way for agronomists to build precise maps and let farmers know about the most impacted areas. Plus, growers can get straight to the root of in-field difficulties with the relevant information at hand by downloading maps and analyses onto GPS-enabled smartphones.
With that being said, agribusinesses may use all these features of precision apps for agriculture to not only identify issues and take appropriate action but also to improve tried-and-true management strategies and optimize as a result. These findings may be fed into agricultural models to increase productivity.
However, it's worth noting that the following technologies can also be utilized for building precision agriculture apps with the functionalities we've covered in this section:
Global Positioning System (GPS) guidance systems;
GPS yield and soil monitors/maps;
Variable-Rate input application technologies.
Due to this, not all precision agriculture technologies have to be satellite-based, like Planet Labs. While satellite imaging bodes well for most precision agriculture technologies, such businesses should consider other options (and more accessible ones) to conquer the digital front of modern agriculture. We'll share with you what these options are in the next section.
How to Build an Agriculture Application Like Planet Labs?
Being able to anticipate environmental conditions and respond to them as quickly as feasible is key to agricultural efficiency. Before a few decades ago, the reliability of such projections was questionable. But now it's amazingly high as a result of immediate data collection and sharing. How to properly process such data?
We suggest that agricultural companies focus on mobile technology since it has rightfully established itself as the most potent business tool available today. Software product developers and farmers now mostly use portables. Instead of laboring in the field as their predecessors did, modern farmers spend the majority of their time programming their operations on laptops or tablets with the help of apps for agriculture.
Read also: How Much Does It Cost to Make an App for Business

Study the guide on how to find out the pricing of your solution
As such, a well-developed and nicely packed precision agriculture application makes farming easier (and a fun experience in some way). Why, you ask? Because it provides automation in agriculture instead of repetitive tedious operations, which boosts productivity and management processes overall.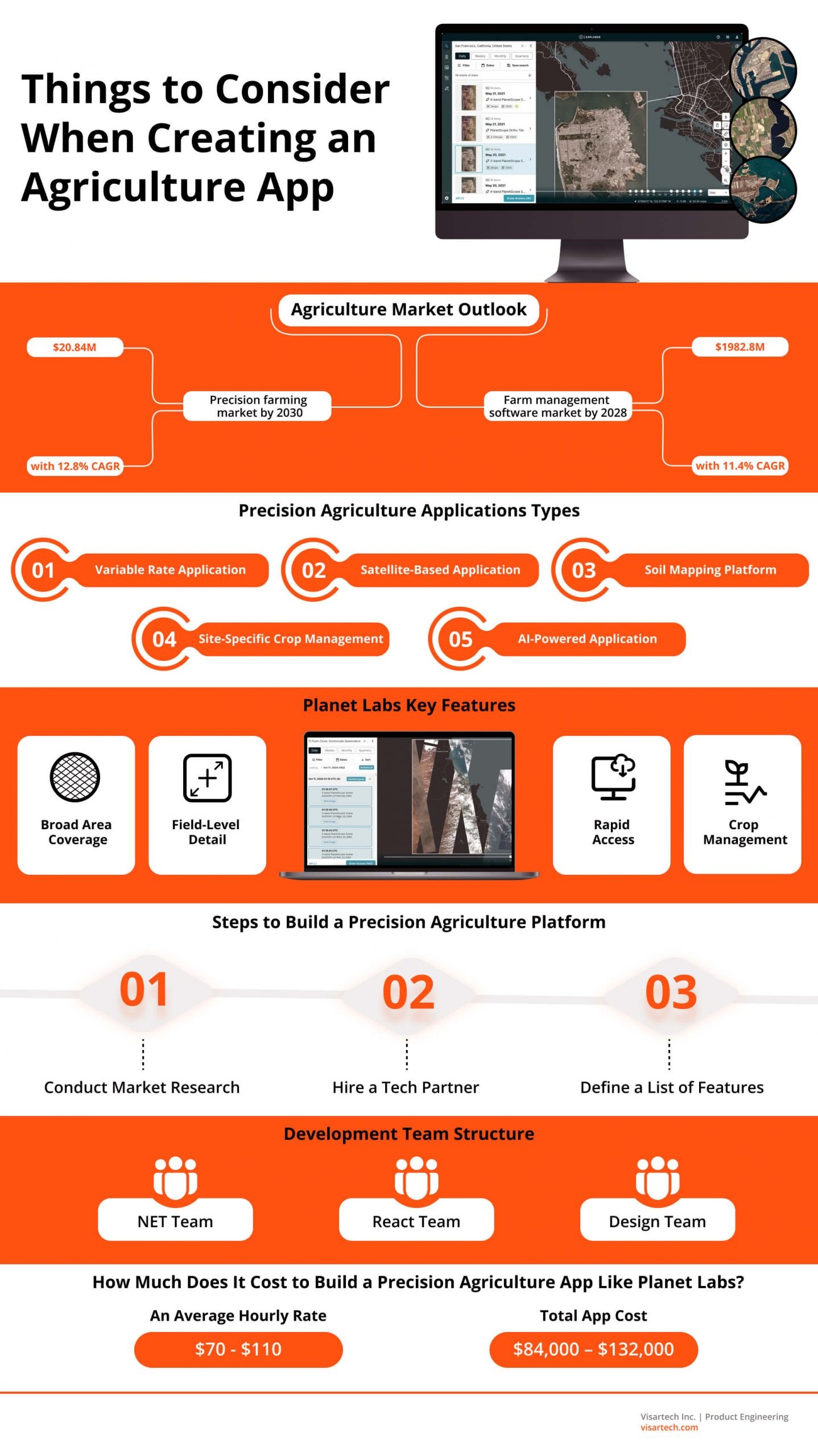 We've prepared a list of the necessary steps required to build a precision agriculture software:
Conduct Precision Farming Software Market and Competitor Research
The agriculture software market is steadily growing, laying a solid foundation for agriculture software development. But it also makes it harder to compete in such a fast-paced environment.
First, you should study the key drivers of the agriculture software market to learn the niche in-depth. Currently, the industry is expanding as a result of:
The rapidly rising adoption of cloud computing for agricultural data processing;
The growing population and the ensuing rise in food consumption globally;
Enhanced intellectual property protections for agricultural developments.
You should also consider COVID-19's effects, the industry's expanded use of AI and machine learning, and the quick uptake of smart agricultural technology. But don't dismiss your ability to manage large volumes of data for effective decision-making with a single digital platform, deep technical expertise, or underlying market constraints. All this you can develop and use as a competitive edge.
Last but not least, know your rivals. The list of agriculture software products holding leading positions in the market includes the following: Farm 21, SmartFarm, Traction Field App, GROWERS Rally App, FarmHQ, Farm Water Advisor, Agrivi, Agworld, Agvance Grower360, BeCrop, Farmbrite, Phytech.
Hire a Tech Partner for Custom Agricultural Software Development
Why design a software solution on your own and waste time and money on countless failures, if you can reach out to the experts? Let us briefly explain why choosing a custom software development agency allows you to kill two birds with one stone.
First, with a host of app development services, an experienced technical partner enables both old and young agribusinesses to offer creative solutions for farmers to improve their cropping practices. As such, a software development company assists its clients in developing precision agricultural apps. It enables growers to be guided solely by informed, data-driven decisions. That results in improved profitability and long-term company success.
Second, you may build an entire technological infrastructure around your farming operations using the services of a tech partner. To jointly produce scalable and customer-centered digital solutions with clients, Visartech augments agriculture software development services with knowledge gained from other sectors. They include sports, education, fintech and banking, gaming, and retail, to name a few.
We make innovation in agriculture simple and beneficial for agribusinesses by utilizing data analytics, software engineering, extended reality services, and cloud solutions and services.
Define a List of Essential Features of a Precision Agriculture Platform
Streamlining agricultural procedures is the key purpose of farming app development. The majority of sophisticated features are currently used on desktops and laptops. So we encourage you to take the next step and make them accessible for farmers on mobile devices. Doing so will help growers use these technologies no matter where they are or when they need them.
While it's a viable strategy to follow the market trends, you should always add something special to the software solution that sets it apart from the competitors. Adding unique and necessary features is one such task.
In addition to the above-mentioned features of a precision agriculture app, like Planet Labs, you might want to consider adding a few more selling points to your software product. Some of them include GPS tracking, chats and video calls, calendar, weather forecasts, smooth integration with UAVs, a list of agriculture solutions and diseases, etc. Of course, it's up to you and your team, but always keep the customer's needs in mind first.
Read also: Why You Should Write Technical Specification

Check if all project essentials are ready for kickoff
Other than that, we also recommend focusing on the specific attributes that impact the usage of your agriculture app. These include agent support when using the app for the first time, data entry requirements, data usage costs, training options, availability of shared data, and replacement of extension service visits.
How Much Does It Cost to Build a Precision Agriculture App Like Planet Labs?
Now, let's talk numbers! When building agriculture software solutions, being able to plan your budget correctly is half of the success.
The following points have the biggest bearing on how much an agriculture app will ultimately cost to build:
The type and location of a software development company
The team's professional expertise and a tech stack
Development strategy (native, mobile web, hybrid, etc.)
The richness and amount of the app's features
The difficulty of the UX/UI design
The customized features (designs and animations)
Servers, libraries, and APIs
Linked APIs and backend infrastructure
The number of platforms to be created (iOS, Android, or a web-based app)
To create an agriculture app like Planet Labs, you need to assemble a group of professionals. The structure of the application development team should include:
NET Team
React Team
Design Team
The Project Manager is responsible for building the work process. In order to be convinced of the complete functionality of the finished application, it is also necessary to have QA engineers. And last but not least is the RD and Doc Team, who analyzes and refines project details with the client and determines the scope of work.
When calculating the cost of app development for agriculture, the amount of time spent on each stage is taken into account. Below, we provide the average number of hours required for backend development with the MVP features:
Tasks/Features
Optimistic,
hours
Pessimistic,
hours
Time,
hours
Authentication, Profile
40
80
60
Broad Area Coverage
48
64
56
Field-Level Detail
80
120
100
Crop Management
48
64
56
IoT Management
96
136
116
Dashboards
80
120
100
Alerts and Notifications
80
120
100
Total
472
704
588
As you can see from the table above the backend development team needs between 472 and 704 hours to complete their work. With an average cost of work of $70-110 per hour, the development cost of the backend with MVP characteristics will vary from $41,160 to $64,680.
By adding stages such as Discovery and Frontend to the previous calculations, we will be able to see the total cost of the precision agriculture MVP.
Tasks/Features
Optimistic,
hours
Pessimistic,
hours
Time,
hours
Discovery
48
56
52
Backend
472
704
588
Frontend
480
640
560
Total
1000
1400
1200
Based on these data, 3 main development stages will be priced at the following:
Discovery: $3,640 – $5,720
Backend: $41,160 – $64,680
Frontend: $39,200- $61,600
So, let's sum up all the parts to see the approximate total cost of developing an app. If consider the average rate mentioned earlier, building a precision agriculture app like Planet Labs with fundamental MVP features will cost you $84,000 – $132,000. But still, this is an approximate cost that may depend on various project conditions.
Final Thoughts
The promise of innovation in agriculture is becoming more and more clear as it completely redefines the modern outlook of the industry.
Though challenging, creating precision agriculture technology like Planet Labs helps meet the needs of agribusiness and the growing food needs of a growing population. And it's not only the satellite imagery that makes precision agriculture work!
The key objective we outlined at the beginning – increasing yield while using fewer resources – can be completely achieved by precision agriculture. Thus, having expertise in both agriculture and precision farming opens up many great opportunities for farmers and agricultural companies to scale their businesses and address the globalization of food production.
Interested in a digital transformation of your agricultural business? Contact us for a free consultation!