Nowadays, the transition to clean energy has accelerated meanwhile the importance of renewable energy has increased due to the energy crisis. As such, the renewable energy market steadily grows. Fossil fuels, increasing urbanization, and economic development are also influencing the transformation of the sector.
From small house installations to large-scale solar projects, we at Visartech firmly believe that solar design software solutions are beneficial across all levels. Most importantly, such a diligent approach to designing a PV system guarantees a smooth installation procedure. Isn't it what a solar panel business strives for?
Renewable Energy Industry Outlook
In the pursuit of sustainable development and ecological business practices, renewable energy technologies are on the cusp of global environmental protection. There are many reasons for their growing use. Yet, the key reason is that the use of alternative energy has great potential to cut operational costs and high dependency on fossil fuels (think coal, oil, and natural gas).
Why should we care? Due to the current events, including post-pandemic demand and climate change, a severe fuel shortage has arisen. It has paralyzed the global energy pipeline and resulted in major financial losses for businesses. The world economy has taken a big hit. One such example is the recently established EU Energy Platform. Its goal is to find alternative sources of energy and speed up the transition to a greener economy.
Businesses that produce various types of fossil fuels believe that this commodity will retain its value in the future. But despite this, the energy sector is trying to find an alternative to fossil fuels. That is renewable energy.
Case in point, the usage of renewable energy is predicted to rise and reach 161 exajoules by 2050. This includes solar energy, wind power, hydroelectric energy, biomass, and geothermal power. All of the above is deployed thanks to the latest tech and web-based applications.
One potential solution to ending the energy crisis is solar power, which is why solar panel companies hold such a strong market position. According to predictions, the market for solar panel coatings would grow by nearly 143 percent between 2021 and 2026 and reach a value of $9.46 billion. Still, for utility-scale projects to scale up and maintain resources efficiently, the computerization of solar energy systems is essential.
Besides, clean alternative energy solutions, like solar design tools, are more eco-friendly. They meet our power demands with no negative effects like the release of greenhouse gasses.
In this article, we'll cover all the intricacies of creating a web-based solar design energy platform like Aurora Solar. Let's see how software development services come in handy in the transition to a greener future!
Types of Solar Software Applications
As the worldwide build-out rates for solar and wind increase by a factor of five and eight, respectively, it's predicted that renewable power will account for 80–90% of the world's energy mix by 2050. In most countries, the cost of solar and wind energy is already less than that of fossil fuels, and their cost competitiveness is expected to rise over time.
Therefore, it makes sense for businesses to focus their efforts on developing tools and software solutions to accelerate the growth of solar energy. One such example is solar design software with many uses across the energy business.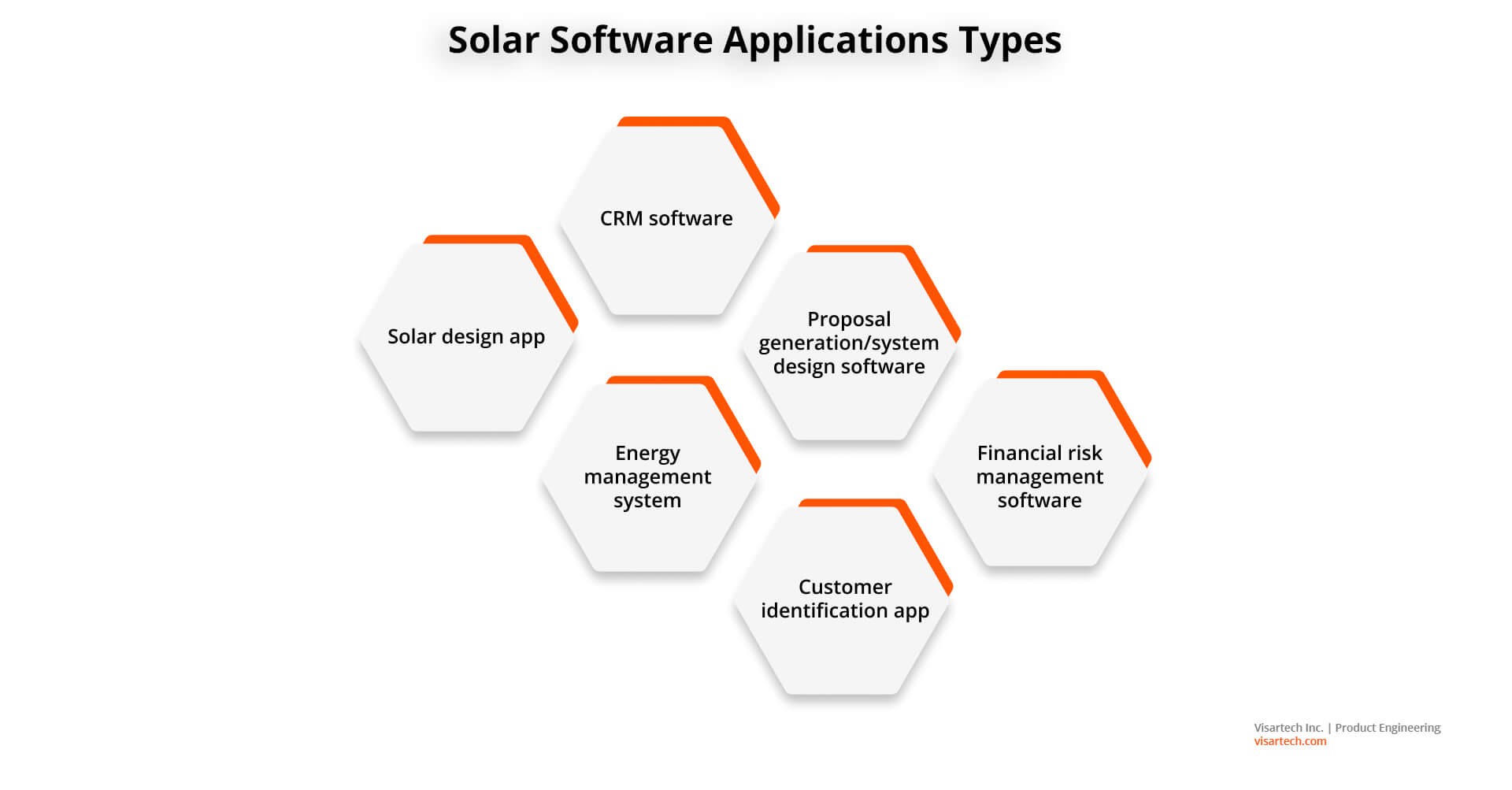 Photovoltaic (PV) solar energy is a green energy source that doesn't discharge dangerous chemicals or greenhouse gas emissions (e.g., carbon dioxide) into the atmosphere or water system. Thus, a solar design tool is a crucial asset that helps businesses harness the full potential of technology in the photovoltaic sector. These solar design tools come in different types to address specific client demands.
Read also: Trunk Based Development for Product Agility and Continuous Delivery

One practice that helps speed up the development process
Solar design tool
Solar software products offer automation and project requirements management using one platform only. These assist industry players in optimizing their repetitive work.
Thus, by automating a system's design, solar software allows businesses to give their clients accurate quotes promptly.  You may model the design and performance of a photovoltaic power system using certain software, e.g., Aurora Solar.
The key factors to consider include the area appropriate for solar panel installation and the annual consumption of power. Depending on the property, additional parameters such as shading analysis and the efficacy of solar panels and inverters also come into play. We'll review the main benefits of solar design tools shortly.
Energy management system
PV system developers and owners require robust software to manage solar sites. Through data automation, these software solutions can enhance the accuracy rate and functionality of the energy management process. The storage components may also facilitate the operation of solar systems.
Customer identification app
For a solar power business, finding new clients takes a lot of time and finances. Customer identification software handles this task brilliantly, leaving behind door-to-door sales and various platforms containing customer data. It streamlines the sales process and assists clients in contacting solar power installers.
Such systems work online or are integrated with Google. This way, solar installers can contact their leads and inform them of the bids, installation processes, and payment alternatives.
Customer relationship management software (CRM)
When you have your customers identified, you can now focus on the solar project itself. Solar installers can do this more easily thanks to CRM software. Yet, to make your solar project work well, a considerable and planned effort is required. Both private and business client management tasks may be handled by CRM software that is properly designed and packed with features. In addition, they may have functions that are often found in other kinds of applications (e.g., asset management and system design).
Proposal generation/system design software
The swift success of any solar installation company depends on its ability to give its clients full support in monitoring the progress of installing a PV system and providing the most suitable generation proposals. Today, they can do so by using a solar design software.
Such PV system software may be an effective tool for automating operations and providing consumers with an accurate and reliable estimate of the system. It also simplifies the engineering process by effortlessly integrating the performance modeling elements with the system architecture. Plus, when engineers are working on many projects, having a variety of features for the designs helps them conserve resources.
Financial risk management software
For each type of business operation, maintaining financial control is essential. These days, organizations in the solar industry also frequently create software solutions for financial risk management. When seeking to purchase solar panels for their houses, the majority of clients want to pay in cash upfront.
This solar software can process pertinent data to help create electricity rate plans, tariffs, and subsidies. All of which can assist clients in understanding how solar items may affect their electricity costs. As a result, solar enterprises may be able to contact lenders who can provide financing options thanks to these software programs.
Why Are Solar Software Applications So Popular?
Your business can significantly profit from solar design tools by saving money on PV system installation, decreasing risk with smaller projects, and, above all, maximizing the use of solar PV systems to lower business expenses associated with renewable energy. This is why modern businesses are favoring these solar power solutions.
It makes sense to use and create these tools due to a number of reasons, especially in the case of solar design applications. Thanks to design automation, it's considerably simpler to deliver accurate solar software sales pitches to potential prospects now. While saving money and time, some software solutions include layout and performance modeling.
Designers, software product engineers, and vendors can benefit from solar power software by producing thorough designs for solar systems faster and more easily. But before we talk about the benefits of solar energy applications, let's first understand how they work.
How Does a Solar Design Tool Work?
Step-by-step modeling of solar plants, simulation, and analysis are fundamental for efficient PV system installation in the power world.
With this in mind, solar PV installations are expected to contribute 60% of the growth in renewable energy capacity globally in 2022. This is because 190 GW will be put into operation, up 25 percent from last year. Nearly two-thirds of the total increase in photovoltaic capacity this year will come from utility-scale projects.
Every project is unique though when it comes to developing applied and integrated PV (e.g., BAPV and BIPV). Therefore, careful and comprehensive planning is necessary to maximize the efficiency and cost of a solar structure.
The modern market offers a variety of solar design tools. They are accessible either online, on a PC, or as mobile or tablet applications. The calculation of solar irradiance, shading loss, energy output, financial feasibility, and 3D models of PV installations and projects have all been done using solar PV design applications.
What is a solar software application? It's a design asset commonly used by PV development, construction, and engineering firms to plan PV projects for optimal energy efficiency.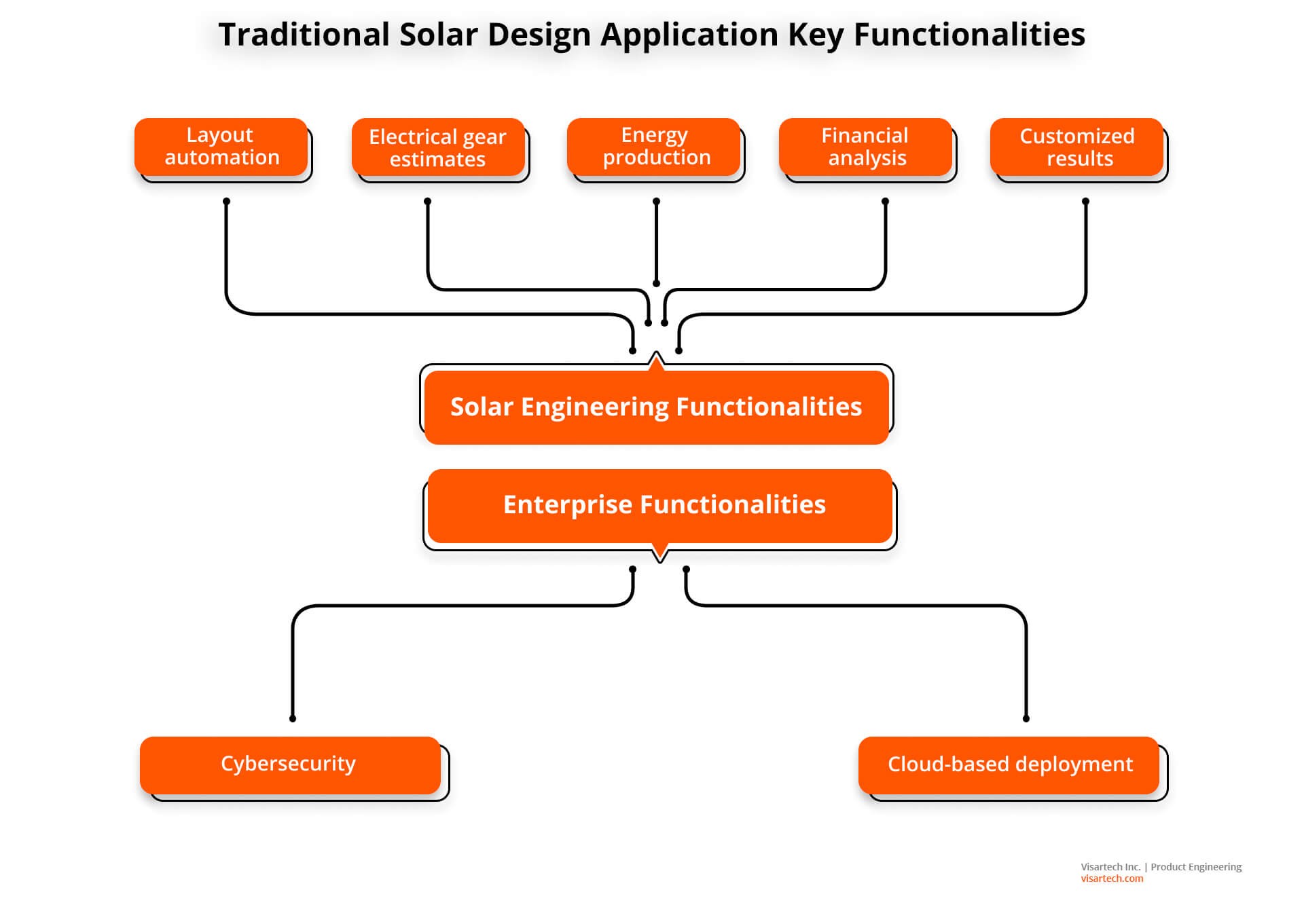 Such renewable technology has gone viral these days. The reason for this is that a solar design tool helps businesses track the entire solar project from scratch and relies on software-based tools for measuring performance and energy output.
Selecting components that are suitable for the system and environment is an essential part of system design. Since electrical pieces like PV modules, mounting structures, inverters, isolators, generators, etc. are often quite pricey, they must be of the highest quality. However, this is more about the internal mechanism of a PV design app.
Let's focus on the technical aspect now and examine the features that place solar power solutions among the best solutions for energy companies. What are the key functionalities of a traditional solar design application?
Solar Engineering Functionalities
Layout automation: Things to consider for arranging structures in the appropriate locations are physical constraints like water bodies, trees, and slopes. Based on the selected criteria, users may perform the topographical analysis to assess the appropriateness of various site areas. A sophisticated tool will then change the landscape to mimic the execution of earthworks. Besides, the layout tool produces georeferenced drawings of the various layout components.
Electrical gear estimates: This tool helps arrange the electrical equipment (e.g., various power stations, combiner boxes, and wires) and size crucial components, like cables, transformers, and safety devices.
A solar design software solution allows the construction of the blocks that best match the layout for each inverter, string box, or DC bus, in the ideal location based on the electrical equipment that the user has provided.
Energy production: When building design software, you need to add a tool that enables users to predict how much electricity the PV system will generate. The computations for energy analysis might include 3D visuals and provide users with a full results sheet.
This way, a solar design tool helps engineers and solar designers achieve an ideal balance between electricity production per square foot and energy output per module.
Financial analysis: Solar software solutions must include financial reporting, including key KPIs like CAPEX, LCOE, ROI, and IRR. With these metrics in mind, solar engineers and designers may quickly assess several locations and setups and select the one that is best for their plant.
Customized results: Sophistication of a software solution is nothing without customizable features. Users need to have an opportunity to tailor the PV system design to each project.
To provide the most accurate planning, each project site has certain features that must be taken into account. Additionally, as projects progress, there may be minor adjustments that need to be made.
Read also: 10 Reasons Why You Should Write Technical Specification

Find out how to set the project off to a great start before the first line of code
Enterprise Functionalities
Cybersecurity: Data-driven projects and technologies are notoriously prone to cyberattacks. It's of the utmost importance to ensure that your web-based solar design tool is secure. Therefore, login authentication is necessary for solar software to block access from unauthorized users.
Cloud-based deployment: Cloud-based platforms have an incredible security advantage due to their simultaneous patching and updating across network endpoints. What's more, your team can work on projects remotely thanks to cloud-hosted software. By automatically updating project files when users make changes, it prevents the chances of duplicate versions of documents being in use.
Which Types of Businesses Can Take Advantage of Solar Software Solution?
Many businesses profit from solar design software since it allows solar energy suppliers to streamline design and sales operations. Companies may carry out shading analysis, design systems, NEC validations, analyze financing possibilities, make sales offers, and much more with such software. In addition, many solar solutions, like Aurora Solar, support groups with sophisticated engineering, remote site analysis, and energy output forecasts.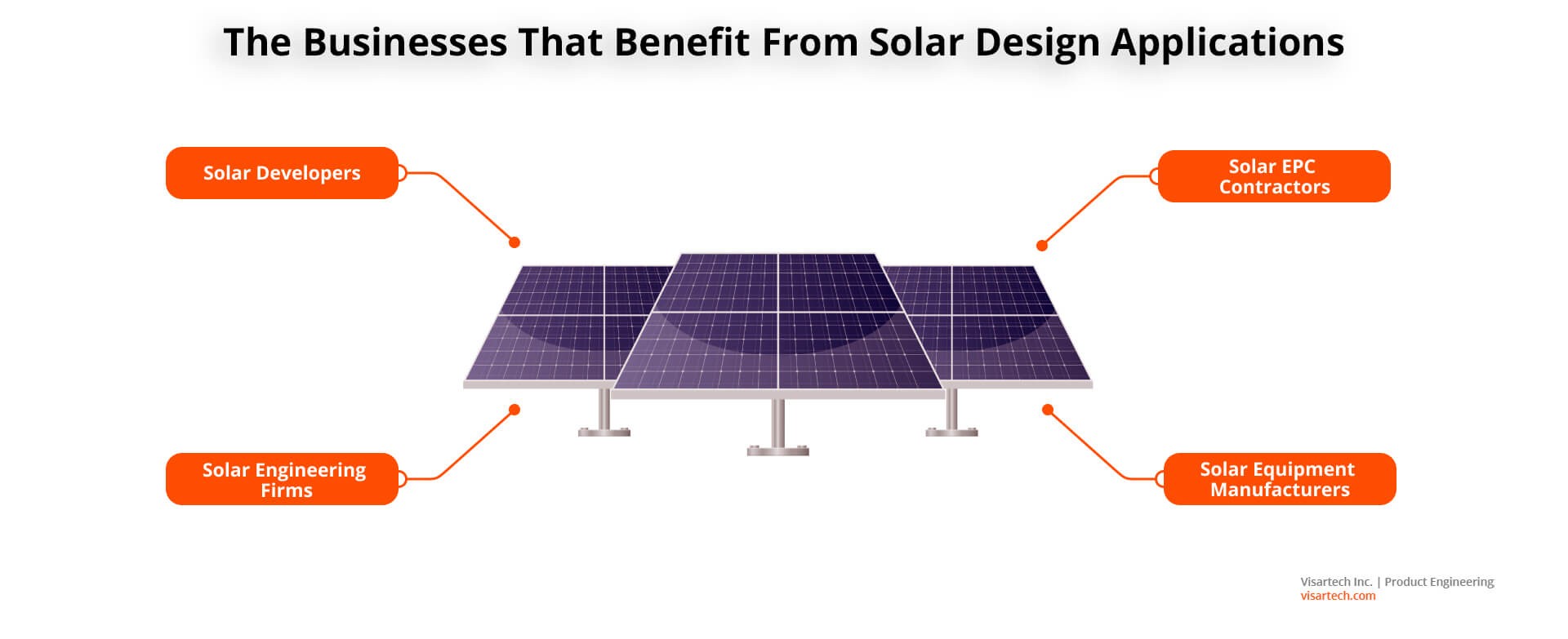 So, who benefits from using PV software for energy management?
Solar Developers
To assess a piece of land's viability and calculate its fundamental engineering and energy output estimations, developers need solar design software. Faster investment prospects are also discovered thanks to this solution. Many utility corporations and independent power producers (IPPs) use PV software for the same purpose.
A great achievement behind the solar structure energy platform is that it aims to replace a wide range of engineering paperwork that includes bills of materials, design drawings, cable lists, and electrical diagrams. This assists PV developers in delivering this documentation to their buyers or EPC contractors (aka Engineering, Procurement, and Construction).
Solar EPC Contractors
Now let's move on up the PV system supply chain. Solar contractors must keep the Levelized Cost of Energy (LCOE) under control by reducing the expenses on engineering and construction of the plant.
How can a solar design tool come in handy here? It develops technical documentation with customized data, such as cost analyses and energy yield simulations. Thus, engineering crews can save costs on plant designs and feasibility studies by performing the task in-house.
Read more: How Much Does It Cost to Make an App for Business?

Check out the comprehensive guide on app development cost
Solar Engineering Firms
Engineers can significantly speed up their work by making use of solar software. PV engineers can increase energy output while lowering building costs by reducing their LCOE and the time needed for solar design tools.
As such, with robust solar system energy software solutions, engineers are capable of producing designs and studies in larger quantities and in less time. All this translates to more time for determining the most optimal solution for each project and delivering high-quality outcomes.
Solar Equipment Manufacturers
Many good PV system apps, like Aurora Solar software, are also utilized by PV equipment manufacturers to assess the device's energy efficiency. In this case, a software product becomes a necessity in the production stage because it delivers designs and products that set them apart from the market competitors.
10 Key Features of Aurora Solar Design Application
If you've been interested in the solar energy sector, you've probably heard of Aurora Solar Inc. But to enlighten the newbies, Aurora Solar is a SaaS business specializing in creating software for solar design, proposals, and sales. The main idea of ​​the company is to promote the development of solar energy.
Based on computer vision, Aurora Solar has created specialized cloud-based data monitoring to automate obstacle identification. This app is particularly critical for PV-tailored projects with numerous roof impediments.
To move to the synchronized online solar data acquired from the digital simulations of solar plants and designs, Aurora Solar is the best option. With only an address and a power bill, you can build a comprehensive engineering design and sales pitch.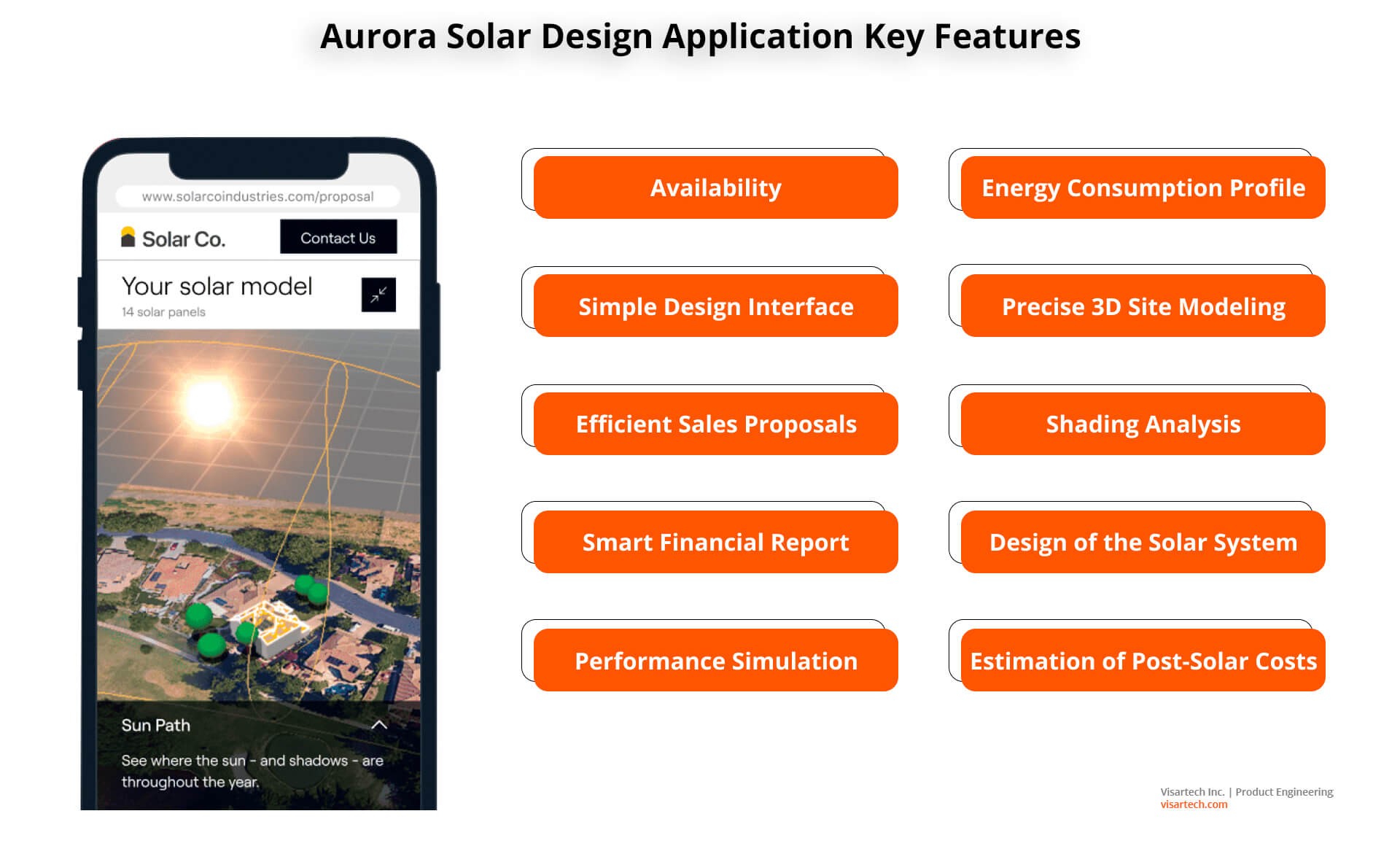 Both commercial and residential solar systems may be modeled using the Aurora Solar app.
#1. Availability
The simplicity of use is one of the best features of the Aurora Solar platform. With remote site analysis (using Google Street View), users may develop correct business projects, boost sales with persuasive offers, and give clients realistic energy output figures. All you need to start using this software solution for solar panels is your address and a power bill. After that, cutting-edge analytics and modeling will move things along. The manual effort to repeat the same process would take a lot longer.
#2. Simple Design Interface
Users are hungry for easy-to-use web-based applications. Aurora Solar is one of them. In-depth shading analysis, measurements, system design, and other essential design components can be carried out directly in the app. Additionally, all solar designs are automatically verified for electrical limitations, industry standards, and NEC rule compliance.
#3. Efficient Sales Proposals
Sales proposals seamlessly bring in a unique project and client data, 3D graphics, and financial analysis into any number of professionally designed templates. It uses project and design data pre-built in the app, providing a unified yet personalized experience for users. To explain the benefit to potential solar off-takers, all of this data may be included in personalized sales pitches, together with thorough visualizations of the site model and suggested design.
#4. Smart Financial Report
This feature allows users to quickly assess the feasibility of a solar project and easily simulate several typical financial models. Financial information, such as cash flows, payback periods, LCOE, and bill savings, are accurately and dynamically shown using financial models that take into account the project's energy profile diagram. Users may compute metrics like LCOE or IRR for each of the customer's financing choices, including loans, leases, and PPAs.
#5. Performance Simulation
The only program presently available that can simulate performance at the submodule level is Aurora. It provides NREL-verified performance metrics. This enables more precise modeling of systems using Module-Level Power Electronics (MLPEs), like microinverters and DC optimizers. A production loss diagram and a chart showing predicted production per month are also produced by the Aurora Solar energy design tool.
#6. Energy Consumption Profile
Customers' load profiles may be modeled by users through uploading Green Button interval data. Another option is to estimate load profiles annually based on model attributes.
#7. Precise 3D Site Modeling
This is a technique that automatically estimates the roof features according to the perimeter and is applied to promptly create site models (i.e., architectural 3d visuals). To guarantee the precision of the building model, the system employs LiDAR technology and computer vision.
#8. Shading Analysis
Solar panel installers may save time and money by omitting truck rolls thanks to Aurora's remote shadow analysis, which is just as good as on-site shade assessments. Moreover, the bankable shade reports provided by Aurora have been approved by most of the credible rebate bodies.
#9. Design of the Solar System
You can create a unique solar system using Aurora's database of modules, inverters, and other parts. Engineering mistakes like improper setback infractions or string lengths are automatically caught by this software product. The "AutoDesigner" function, for instance, allows users to input the desired percentage of energy compensation or the goal of saving on energy bills, and let it automatically cycle through hundreds of different designs to identify the best one.
#10. Estimation of Post-Solar Costs
Aurora can accurately calculate post-solar costs for net-metered clients with its large database of utility prices and the option to input customized utility rates. Additionally, it may model the revenue from preferential tariffs and other incentives, such as SRECs.
How to Create a Solar Design Tool Like Aurora Solar?
As the PV industry matures, developing a software product that meets all consumer demands becomes more challenging.

So, to cover all the bases, solar businesses must take a few important steps before building software and entering the market with a new solution.
Do a Thorough Competitor Analysis
The purpose of the analysis is to understand your competitors' strengths and weaknesses compared to your own and to identify any market gaps. It's a fundamental step for getting a full picture of how to refine your solar business strategies. Most importantly, this advanced analysis will help you find that missing link that will make your future clients want to purchase your software solution.
You need to define your competitors and examine their products, benefits, sales and marketing strategies, tech stack, and social media presence, as well as conduct a SWOT analysis of the key market players.
Hire a Tech Partner for Custom Software Development
Today, many businesses turn to tech agencies for assistance with custom software development to let experts do their job. Our Visartech team handles a plethora of software development services, including web app development, WebGL solutions, and Web3 products, to name a few.
If you're hatching the idea of creating a new solar design application, you need to find a reliable software development partner first. Visartech work as a software product development and high-tech consultancy agency extends beyond simply filling positions for software engineers and developers. We spend time getting to know our partners to elicit their long-term objectives.
You may go through our expertise to see in-depth examples of the work we've done. They show that we have vast expertise in creating unique SaaS solutions with smart architecture, solid backends, and interactive interfaces.
Read also: Everything You Need to Know About Visartech Tech Stack

Learn all about our approach to software development
Define a List of Solar Design Tool Features
With so many solar energy solutions at our disposal, it's hard to tell which features to prioritize and which solar software to pick. We've put up a thorough list of key features to look for. It will help you better navigate the solar software environment and set your solar design application apart from the competition.
What are these features?
Design Features
Simple user interface
HD imagery + LiDAR technology
Bankable shade reports (like in Aurora Solar)
Irradiance and performance simulation reports
A database of current utility rates
AI-powered PV design
Storage capabilities
Auto-stringing
Energy consumption modeling
Demand-driven design service
Sun path modeling
Sales Features
Personalized proposals
Multipage templates
Drag and drop editing
Integrated site design into a proposal
Permission settings
Placeholder values
Finances Features
A pay-back period modeling
Monthly/yearly bill savings
Large incentives database
Several funding options
Depreciation schedules
How Much Does It Cost to Create a Solar Design Tool?
Considering the development of a web-based application like Aurora Solar, it's important to take into account the key aspects influencing its costs. Surely, it mostly depends on the complexity of your app and business objectives.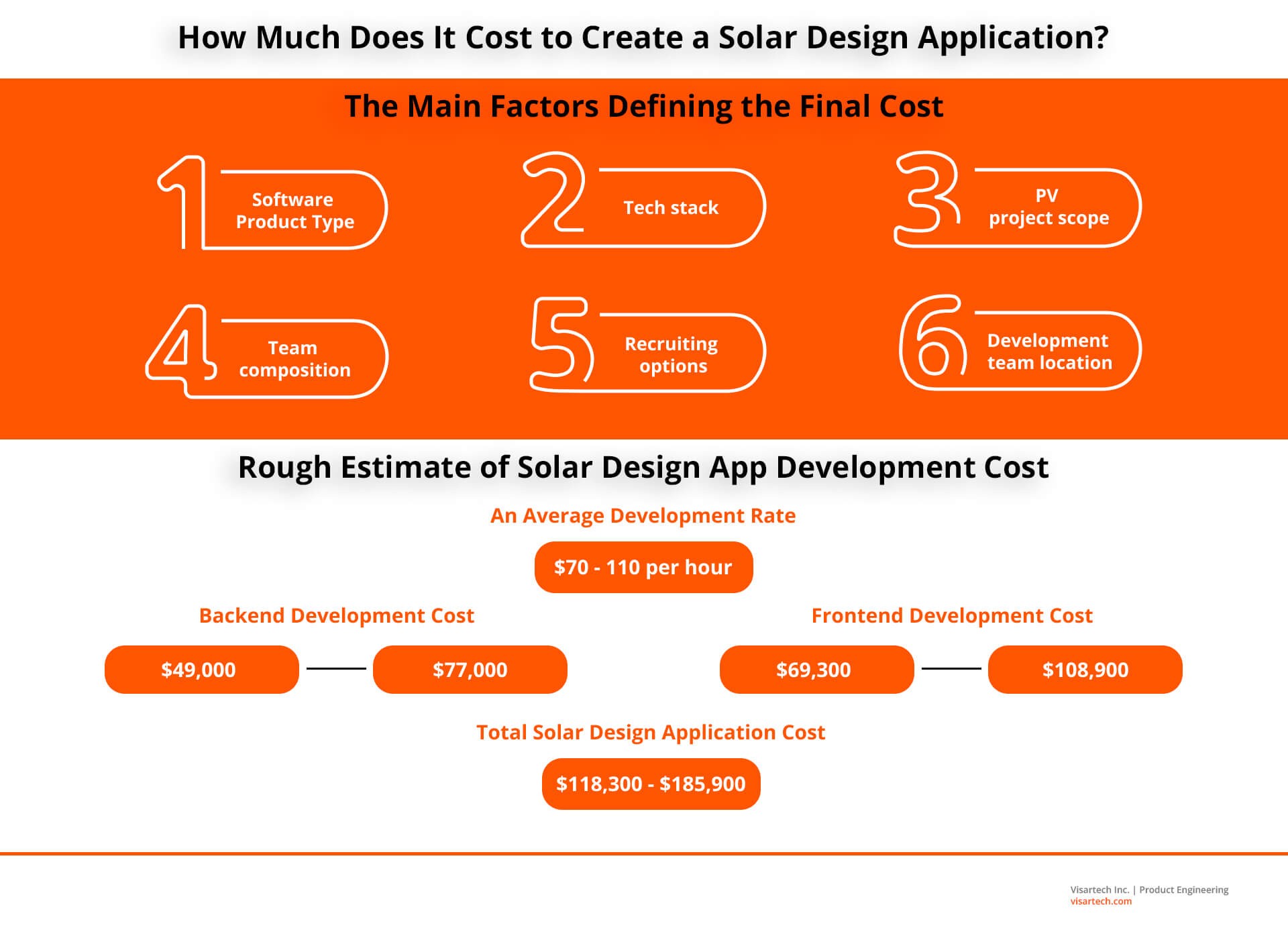 However, the main factors defining the final cost of a web-based application like Aurora Solar include:
Type of the software product;
Tech stack;
PV project scope;
Team composition;
Recruiting options;
Location of the development team.
When creating a solar design software, the amount of effort required will determine which expertise needs to be added to the development team. To create a quality and professionally looking web-based application like Aurora Solar from scratch, make sure the development team consists of the next units:
.NET Team
React Team
Unity Dev Team
To function optimally, the development team needs a Project Manager who will lead the production teams and keep constant communication with stakeholders. Also, it's necessary to have QA engineers who will provide product testing.
The development costs of a web-based app like Aurora Solar also depend on the timeline spent on each part of the project and the professional expertise rate. So, let's get a bigger picture of an application cost by looking at the main development stages.
The backend development of a solar design MVP with advanced features involves the following:
Feature
Optimistic,
hours
Pessimistic,
hours
Time,
hours
Authentication, profile
60
90
75
Bankable shade reports
90
100
95
Performance simulation reports
90
100
95
Energy consumption modeling
90
100
95
Proposals, templates
100
120
110
Sales features
110
120
115
Finances features
110
120
115
Total
650
750
700
Accordingly, it will take from 650 to 750 hours to develop a solid backend structure of solar design MVP. Taking the average rates of $70-110 per hour, the development cost of the backend will be from $49,000 to $77,000.
The frontend development of a web-based MVP like Aurora Solar with advanced features goes as follows:
Feature
Optimistic,
hours
Pessimistic,
hours
Time,
hours
Authentication, profile
60
100
80
3D features
180
220
200
AI-powered PV design
140
180
160
Sun path modeling
50
90
70
Energy consumption modeling
100
130
115
Proposals, templates
90
130
110
Sales features
130
160
145
Finances features
90
130
110
Total
840
1140
990
So getting a well-built frontend part of a solar design MVP takes from 840 to 1140 hours. The approximate cost of it will be $69,300 to $108,900.
Totally, the budget needed to develop a web-based application like Aurora Solar with its core MVP features might cost from $118,300 to $185,900. However, it still depends on the specific project. This rough estimate provides the development costs of an MVP with advanced features, a standard one might require fewer features and thus a smaller budget.
On a Final Note
The global energy crisis is testing our ability to adhere to new realities and stakes for renewable energy innovations.
The growing demand for software-based solutions in the solar industry has surged as a result of the increasing use of solar rooftop installations globally. Since it was first used to build and model solar arrays, photovoltaic software has advanced significantly. It now includes programs for project monitoring and software to increase manufacturer sales.
A web-based solar design tool, like Aurora Solar, took a giant leap toward promoting renewable energy for businesses. Now they can precisely evaluate several possible solar installation locations and boost closing rates by using only one tool. You can choose to adopt green company practices by creating your solar software, too.
Scale your solar business with high-quality custom software development solutions from Visartech!