Learning doesn't stop once you enter the business world. In fact, it becomes an everyday necessity, since continuous learning spawns continuous growth.
The market competition is heating up, which puts strain on companies trying to train more competent employees who can boost their competitive edge. Within the new reality, corporate education and learning increasingly rely on digital solutions like metaverse, big data, the IoT (Internet of Things), interactive platforms, digital twins, etc.
Digital transformation of corporate education makes businesses more flexible and calls for a different approach to staff training and development. As stated in the PWC survey, 51% of companies either plan to incorporate or have already incorporated virtual solutions into their strategies this year. 34% of them believe that the metaverse is a more efficient approach to train and develop their personnel. For example, the stats show that VR-based training can boost employees' confidence by up to 275%.
A digital twin is one of the many virtual solutions that help elevate corporate education and avoid such upsetting stats. Let's explore how a digital twin solution transforms corporate training and development and helps prepare tech-savvy teams ready to take on a digital challenge.
Why Do Digital Twins Advance Corporate Learning?
Well-trained personnel can better respond to constant changes disrupting the business landscape. Therefore, both employers and employees seek to embrace new digital experiences that smoothly integrate with their workflow, technologies, and interpersonal relationships.
Today, only 4 of the top 10 most successful organizations in the world (41.7% of Fortune 500 companies) acknowledge the benefits of corporate e-learning. Meanwhile, 77% of employees worldwide are prepared to upgrade their skills or undergo a total career change. Employers can take advantage of this eagerness to learn by providing learning solutions that are specifically crafted to each worker's needs.
In this article, we'll talk once again about digital twin solutions that have a promising potential to change how firms approach their corporate learning. Such virtual technologies enable one of the hottest trends in the business world – gamification. For 90% of workers, it's a real productivity booster. What is so special about digital twin technology that allures modern organizations and their employees?
Implementing digital twins makes it easier for businesses and employees to profit from the unique knowledge they receive from the technology. They enable organizations to get a comprehensive grasp of their assets for corporate learning optimization.
To be more specific, a digital twin solution improves employee skills as it can be integrated into corporate learning. Case in point, a digital twin can be used for immersive (using VR technology) onboarding and may provide potential employees with a brand-new perspective on the company.
This technology can also be useful for corporate training so that employees experience the situations or environments for which they are being trained. Last but not least, digital twins facilitate communication and interaction between employees.
To sum up, digital twins can transform your team and workplace in these five ways:
Demonstrating how the workplace can be utilized for the highest productivity.
Providing businesses with novel employee management capabilities.
Offering workers some state-of-the-art experience in the training and learning process.
Supporting scaling-focused business decisions by giving a thorough breakdown of your present capabilities using actual data.
Acting as a multidisciplinary, team-based platform to improve employee training.
Virtual twins enable employees to go through a few simulated scenarios for training purposes. This promotes continuous improvement and helps organize corporate education's overall training management system. As a result, the company receives better-equipped management and prepared workers who can deal with crises, maintenance issues, and impact planning in the future.
This way, the digital twin environment delivers cutting-edge training for optimum staff competency and exceptional business outcomes.
What Solutions Does a Digital Twin Offer to Corporate Education and Not Only?
Corporate learning is essential for attracting and keeping top talent but, unfortunately, it poses several issues that render it useless. They include poor educational materials, a meager spending plan, and a personnel shortage. In addition, businesses face difficulties with:
Monitoring the learning process;
Offering simple access to learning materials;
Quickly and efficiently training new hires;
Strengthening the leadership bench;
Capturing employees' attention;
Ensuring workplace compliance.
Using digital twins is an effective way to close existing corporate learning gaps. Plus, it's smarter and more cost-effective to practice on a digital twin than expensive equipment. As we've mentioned before, there are different types of digital twins, and each fulfills its purpose.
Read more: Digital Twin Development Benefits and Costs

Learn ways digital twin technology can update your businesses
But there is one type that best fits the core business goals – an ecosystem twin of your organization. It's a virtual representation of a company, including all the physical facilities. Such twins can be used to perform employee training, create data dashboards, execute simulations, and more.
Ecosystem Twins for Enhancing Corporate Training
Ecosystem twins can sift through the deluge of data to offer valuable business insights using digital technology. In essence, businesses can now better collaborate and make educated decisions in the virtual environment. They do so by using information streamed from their counterparts in the actual, non-virtual world.
By ecosystem twin, we mean that every resource your company owns, every operation, and even every employee will have their virtual replica. They are connected in the same way as in the real world.
This connection allows your workers (and potential trainees) to perform any type of required work digitally before trying out how it works in a physical environment. Employees will be able to learn by interacting with 3D digital representations of a company and equipment, thanks to immersive experiences provided by digital twins.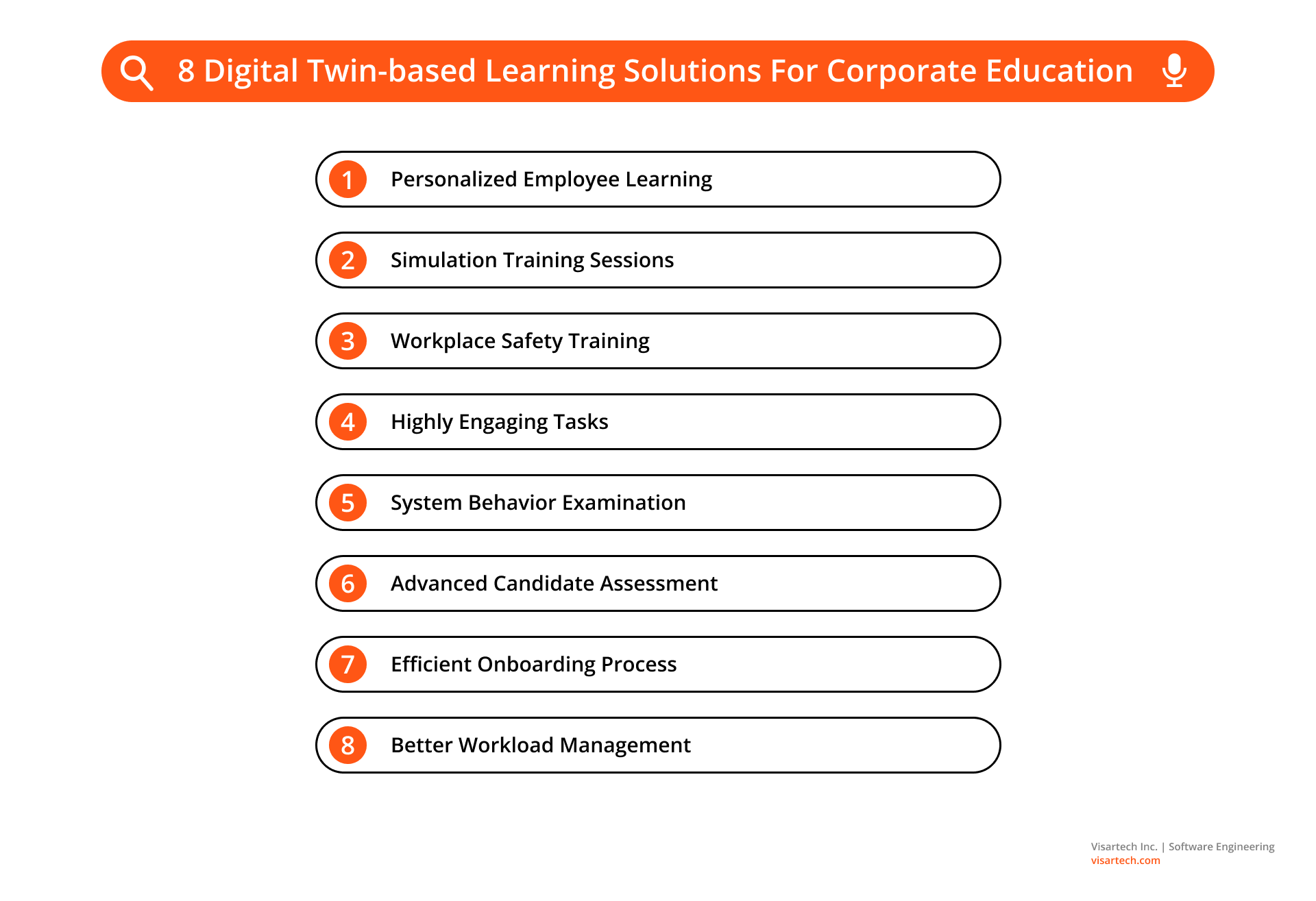 Let's go more into the solutions that companies using digital twins for corporate education get:
Personalized Employee Learning
By offering employees training tailored to their skill level and development goals, a corporate digital twin can increase their effectiveness. Companies, in turn, obtain a comprehensive understanding of individual behaviors by collecting and processing employee data. A system may recommend to the trainee writing and public speaking courses if the virtual twin has communication or computer skills issues. Alternatively, it can provide brief instructions on productivity platforms.
Simulation Training Sessions
Digital twins can be efficient in allowing employees to practice on a physical object only using its virtual version. Plus, learning with a virtual twin before working on a high-risk location or machinery lessens safety hazards.
"…a digital twin is an efficient instrument for new employee training. In a safe virtual environment, workers study how to do their job. Thereby, a company reduces expenses on production damages caused by incompetent staff." Slava Podmurnyi, shared on Forbes
Employees trained on a simulation digital twin are more capable of handling top-level tasks in real life if the company exposes them to various simulated scenarios. They can learn how to operate machinery and handle emergencies. It can also bridge the knowledge gap between newbies and experienced personnel.
Accidents caused by ignorance of safety rules are a common problem in corporate learning. However, they might be decreased with effective safety pre-training using digital twin technology and simulated emergency scenarios. They include fire, truck accidents, explosions, etc. If an operator has not received proper emergency response training, it might be lethal for an injured coworker. Thus, virtual learning delivers a simple, stress-free, and secure way for safe instruction.
Immersive technologies (i.e., AR, VR, XR) are interactive tools that encourage active participation from employees. Harnessing their competitiveness with gamification tactics is one of the finest ways to keep workers engaged in their job. Moreover, employees get instantaneous virtual prizes, strengthened relationships with coworkers, and unexpected competition in seemingly routine jobs. This enhances their experiences, thus reducing churn and enhancing overall productivity.
System Behavior Examination
A digital twin can capture and explain the behavior and processes of its physical twin. Your workforce may better study system behavior under various scenarios, comprehend failure issues, and gain knowledge about system sensibility by running simulations. This is possible by analyzing the data sent from a physical system to the virtual space.
In addition, a virtual twin can help workers understand how adjustments to the system's characteristics and outside disturbances affect how well it functions for the business.
It's interesting to note that digital twins also help HR managers step up their game and make the onboarding procedure much more efficient through:
Advanced Candidate Assessment
Through simulation and assessment of the abilities required for a certain position, immersive technology can make it simpler to screen prospective applicants. HR departments may find applicants with the proper skill set using digital twin simulations.
Efficient Onboarding Process
A digital onboarding process is an excellent approach to introducing new hires to the team. HR managers can interview new candidates by using a 3D tour around the company. This helps employees establish professional connections and earn the trust of their peers. Additionally, digital onboarding helps candidates get a head start by getting familiar with the location and its safety guidelines.
Read more: Metaverse Defined & Business Opportunities

Find out metaverse capacities and embrace virtual world solutions
Better Workload Management
Adapting training resources to a person's capacity to process and remember information is what the cognitive load measurement is about. The data is continually sent into a digital HR management system. It identifies what type of training and workload is required for a particular person and tailors staff training instantly. Organizations may also manage employees' workloads by monitoring their calendars and being proactive.
Top Companies Successfully Implementing Digital Twins In Corporate Learning
According to a Global Forecast, the digital twin's market share will grow from USD 6.9 billion in 2022 to USD 73.5 billion by 2027. Meanwhile, 40% of IoT platform suppliers are integrating simulation platforms, systems, and capacities to produce the technology.
However, for companies leaning towards digital transformation and capitalizing on the benefits of digital twins, this number equals 96%. Virtual simulations are popular among modern businesses because of their versatility and ability to deliver in-depth, real-time insights regarding company performance. What's more, they can speed up future operations while mitigating any potential risk for employees.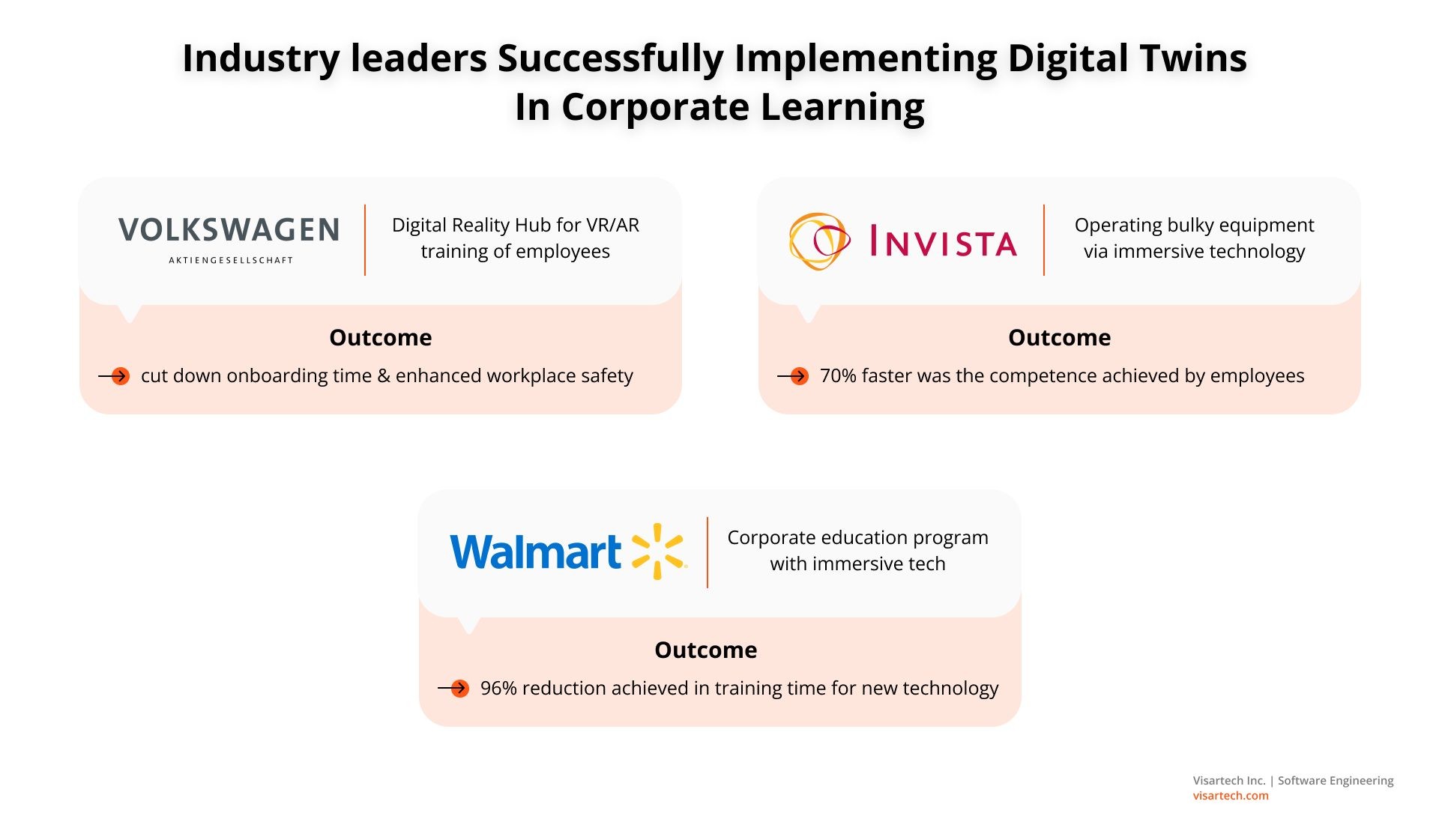 How are industry leaders benefiting from the digital twins in corporate education?
Volkswagen Group
For collaborative VR/AR training of employees, Volkswagen has created the Digital Reality Hub, a virtual reality platform. It includes virtual company training courses, knowledge bases, and conference spaces.
All the staff members have access to completely immersive and interactive virtual training scenarios and valuable information. As such, large automotive corporations like Volkswagen can use immersive technologies to cut down onboarding time, improve customer service, ensure workplace safety, reduce turnover, and strengthen corporate culture.
INVISTA
The company trained its staff on how to operate bulky equipment in a noisy environment using immersive technology. As a result, employees were engaged in friendly competition due to the technology's ability to deliver precise, real-time business stats on how well each learner is grasping the material. Also, employee competence was attained 70% more quickly.
Invista can repeatedly put its personnel through hypothetical circumstances with no potential danger or wastage. Such a virtual strategy saves the corporation millions of dollars a year and cuts training time in half.
Walmart
The training at Walmart Academies was upgraded by incorporating immersive tech for new employee training and development. This corporate education program was a huge success, as the company managed to cut the time required for workers to receive training on new technology by 96%. Now, Walmart is supplying VR headsets to every store in the U.S. to provide more than 1 million of its employees with the same degree of training.
Moreover, by identifying leadership and teaching abilities, the company can employ virtual training to select staff promotions and pay raises, as well as corporate leadership training. This is a real breakthrough in corporate e-learning solutions.
What Does it Take to Create a Digital Twin for Corporate Training?
Extended reality applications have the amazing capacity to make learning empirical. Another crucial thing to keep in mind is that a digital twin is a high-powered, bilateral system that needs to be constantly monitored and tweaked.
When done right, a digital twin project can provide advantages akin to those attained by manufacturers and engineers. That is the capacity to simulate and enhance something dynamically as it's happening.
Here are the key steps you need to create a digital twin for corporate training purposes:
Work on the Concept
Digital twins are not static duplicates, but rather extensions of an environment. Real-time data exchange occurs continuously between a physical and virtual asset. So, understanding the intended use and scope of your digital twin development is essential.
Knowing your objectives will help you choose the best resources to support your project. Addressing the size and scope of your digital twin is also beneficial. Smaller spaces will be simpler to digitize and improve while twinning a whole facility requires expert support.
Create a 3D Model
A three-dimensional simulation of a physical world is the most aesthetically stunning feature of the digital twin. This calls for creating a 1:1 representation, aka a 3D model, of a place or an asset while documenting its key properties.
The Visartech team also helps clients with custom digital twin development for corporate education. The tech stack we use to create 3D models includes Unity, Play Canvas, Babylon.js, and three.js.
We developed a web platform to enable remote teams to collaborate in an entertaining and easy-to-use virtual 3D environment during onboarding and team-building activities. There are many other interactive applications that our team has developed for outstanding immersive experiences.
Analyze & Define Further Improvements
After the initial digital twin use cases are operational, it's time to increase the digital twin's functionality by including more data layers and analytics. This step helps serve fresh use cases for staff learning and development.
Using sophisticated modeling approaches, businesses frequently take their twins to the next level. Incorporating features and functionality into digital twins ensures it functions as planned. Depending on the intended use, these features may differ (e.g., building functionality, visual components, and navigational nodes).
Roll Out a Release
Performance and credibility are two crucial operational views on assets that must be taken into account for a successful roll-out of your digital twin. Any deployment will take place along two main axes. First, this includes coverage, as the digital twin models a growing portion of the asset base. The second focus is functionality, as the models mature from straightforward reporting to event analysis to prediction and beyond.
Read more: Digital Twin Architecture & Implementation

Discover a comprehensive guide to creating Digital Twins
Final Words
It takes time to achieve a goal. Top businesses around the globe are already laying the groundwork for their goals with digital twin services. Ultimately, hundreds of networked digital twins will drive the corporate metaverse.
Building a digital twin for a corporate learning strategy is enabled by its potential to replicate everything from people to fundamental business processes to physical assets. Yet, there are so many variables that affect corporate education and are difficult to map in the virtual twin. With this in mind, companies should develop immersive technologies able to interact with learning aspects that aren't apparent but are nonetheless important.
Eager to get a detailed picture of your business and staff via digital twins? Feel free to contact us!