The success of the Clubhouse social application is one of the main talking points these days, but is the idea behind the mobile app actually completely unique and unreplicable?
We take a detailed look at how to make a social media app like Clubhouse, pointing out its features, tech stack, and development costs.
Within less than a year after its launch in April 2020, Clubhouse has crossed around 11 million downloads globally. The rise to fame of the Clubhouse social app was very consistent from the start, but its popularity skyrocketed at the beginning of 2021. This is where some of the most iconic personalities from the world of tech, including Elon Musk and Mark Zukerberg, not only admitted to using the Clubhouse app but also engaged with other users on the social platform.
Since then, Clubhouse saw meteoric growth and we are now living in a new Clubhouse social media era. So why is the Clubhouse audio app as popular as it is, are there any competitors to take into account, and how to go about building your own audio-chat app with the highest probability of success? This is our ultimate guide to the Clubhouse application development.
Audio-Chat Social Media Apps: Market Overview
Audio-chat social media apps may not exactly be a novelty. They have existed before, but the Clubhouse application put the whole scene under a new kind of spotlight. Clubhouse's rise to popularity coincided with the ongoing COVID-19 pandemic. When people spent more time at home and isolated than ever. This is when most of the conversations were already happening in the online realm but lacked humanity because the majority of them were text-based. Clubhouse became a welcome alternative to chats and text posts.
The Clubhouse social media app has already attracted millions of users, including celebrities like Drake and Oprah Winfrey, as well as key tech personalities. It's also one of the most buzzed-about apps of the latest years. Shortly after its launch in 2020, Clubhouse was valued at $1 billion, and the number has undoubtedly gone up since then.
Clubhouse App Competitors
Clubhouse may have some standout features of its own, but it's in no way a completely unique service and there are plenty of social networking competitors that achieved various degrees of success:
Discord app was originally intended for gamers but has recently rebranded itself as a place for everyone to talk.
Spoon is an app that allows people to talk and listen to various conversations, as well as for the speakers to get paid.
Twitter Spaces feature where Twitter users can talk directly to their followers.
Even Facebook is already rumored to be developing its own version of a voice-chat app. Clearly, the social audio market is booming right now and waiting for its next major player following the success of Clubhouse.
What Is Clubhouse?
Clubhouse is an audio-chat social media app. It was launched in the early spring of 2020 and is developed by Paul Davison and Rohan Seth. Those two developers are also the personalities behind Talkshow, an app that is now defunct but used to allow people to have text conversations in public. Clubhouse founders took things to the next level and allowed people to communicate only by voice.
Clubhouse does not cater to a specific group of people. Inside the mobile app, there are conversations on nearly any topic, from mental health and writing inspiration to feminism, learning new languages, and pop culture. There are even rooms that stream music 24/7.
Read also: How to Make an Interactive VR Whiteboard for Meetings

See how to collaborate efficiently while working remotely
Still, the fact that the first app users on Clubhouse were the key players in Silicon Valley and startup founders around the world, this social network app became one of the top spots for communicating with venture capitalists, mentors, and other members of the tech elite. It has also become a powerful business tool.
Social Media Apps Benefits for Business
So how exactly can a business take advantage of Clubhouse and apps with similar functionality? Here are just three of the biggest benefits of apps like Clubhouse for a business:
Grow your business. Clubhouse and other voice-chat apps allow you to build an audience of people who can be potential customers of your business. You can first attract them with valuable content related to their industry and show off your expertise. When they recognize you as an industry leader, they will be more likely to choose you to do business with.
Hold meetings for a wide audience. Compared to other audio-chat apps and services, Clubhouse gives you an opportunity to broadcast your ideas and other valuable information to more listeners at once. With the maximum meeting capacity of 100 users on Zoom and a 1,000-user capacity on Google Meet, the 5,000-user limit on Clubhouse looks like a major upgrade.
Connect with people from your industry. With the variety of topics discussed on Clubhouse every day and the endless range of experts using the app, you can find the right person for any situation. Whether you are looking for a new employee, a new partner, or someone to collaborate with on your next project, developing Clubhouse and similar apps give you plenty of opportunities to do that.
Clubhouse is an invite-only app at the moment and it's already available both for iOS users and Android users.
However, there is still a big possibility that some of its potential competitors will roll out their own voice-chat apps that will rival for popularity and revenue with Clubhouse. Such a social networking development company that gets there first will likely reap all the benefits.
How Does Clubhouse Work?
Clubhouse is a social app that allows users to communicate with other people exclusively by using their voices. Clubhouse application does not allow users to exchange photos or create text posts. The entire social media app revolves around voice conversations, and it definitely seems like this business idea is a big hit with the audience.
One of the most important concepts of Clubhouse is rooms. A Clubhouse room is a space dedicated to a certain topic or interest. Each chat room has a name, a description, and a list of members. A list of all available Clubhouse rooms is visible on the launch screen of the app. Clubhouse users can join any conversation room as a listener, but all listeners are muted by default. Those who want to contribute to the conversation, need to virtually raise their hand. If an influencer allows a person to chime in, the user's mic will be unmuted. There is also an option to create new chat rooms and invite people to them.
An important difference between Clubhouse (and apps that offer similar functionality) and other voice chat apps is spontaneity. Clubhouse does not rely on schedules or plans, meaning you can join and leave rooms any time you like. There can be scheduled talks, but the most noteworthy things on Clubhouse are unplanned. That is why the Clubhouse user needs to be online most of the time in order not to miss the most interesting talks. You can also set up notifications for that.
The Most Notable Features of Apps Like Clubhouse
The functionality of the Clubhouse app and what you can do on the app are rather clear. But how is it achieved?
Here are the most important features you will find on Clubhouse that are also must-haves for apps with a similar premise:
User personal profiles contain all the information they want others to know about them. For example, a business owner can describe the business area in the bio. There is also an option to include links: they can be links to a corporate website, a personal website, or a social media profile.
On a voice-chat app, communication cannot just take place in an open space. Otherwise, once there is enough content, your ideas and insights can be lost in the never-ending stream of information. That is why all chats should be divided into live rooms based on people's interests.
Leaving a social audio app to function on its own will undoubtedly lead to offensive content, harassment, and other negative aspects of human communication. Moderation may not seem like a must-have feature at the moment, but it will definitely pay off in the long run.
Choosing an invite-based system for a new app can be a double-edged sword. On one hand, it will likely improve the quality of the content inside the app. On the other hand, your growth may be slower and users who cannot get a Clubhouse invite for some time can eventually lose interest in this exclusive app.
Clubhouse and similar apps are social networking apps first and foremost. That is why the social aspect is essential for those apps. Giving users an opportunity to share the audio chat rooms and scheduled talks via email and social media will increase your user base and attract new users to the app.
How to Make A Social Media App Like Clubhouse: 5 Steps
Looking at the success of Clubhouse, the idea of developing an app with a similar or improved functionality seems very attractive.
Read also: How to Make an Educational App Like Duolingo?

See how much does it cost to create a language learning app
But how to go about it and what does the process of mobile app development include in this case? Whether you are already planning to hire mobile app developers or are simply weighing your options, here are the 5 steps you'll need to take on the way to your own app like Clubhouse.
Step #1. Do Your Research
Research is essential for developing a successful app. You cannot just create a Clubhouse clone since it won't have any real advantage over its closest competitors.
You need to research the market to see what the customers want to see in voice-chat apps and what can give you an edge over your rivals. Market research is also required to understand who your target audience is and how to market your app once it's ready.
Step #2. Create Your MVP
Understandably, you want your app to look exactly like you imagined it from the start. However, it's rarely feasible and you will likely need to start with an MVP version of the app.
The MVP version of a new app includes the most essential functionality but can omit some of the nice-to-have features in favor of quick and cost-effective app development. Then, as you roll out the app, you can decide which features to add next.
Step #3. Work on Your Design
When there are several apps that share similar functionality, one of the few ways to get an edge is to make your design stand out. An appealing design with a well-planned user experience will give your users a reason to choose you over your competitors.
An intuitive, streamlined design is not a substitution for valuable functionality, but it can add to the satisfaction users feel from using your app. It goes without saying that bugs and crashes should be instantly addressed.
Step #4. Market Your App
A good way to create momentum for your new app is to get people to talk about it before it's even released. There are several solutions for getting your app out there.
To begin with, you can work with influencers by making them early adopters of your product and spreading the word about it to their followers. App Store Optimization, or ASO, is also an effective solution. Launching a blog on your website that is targeted at a specific audience can be another excellent way to promote your app.
Step #5. Ask for Feedback
Right after the early adopters get their hands on your new app, you should begin collecting and analyzing feedback.
The way customers interact with your app, any problems they may have with it, and their suggestions for improving the app can give you some valuable ideas. You can then do a lot for improving the application, make it more accessible to the users, and build a trusted relationship with your customers.
Technology Stack to Make a Social Media App
Any industry expert will tell you, that there are several vital factors affecting the success of the app development process, but none of them is probably as important as the technology stack you choose for your application. This is especially true for apps with innovative functionality. A reliable app development company offers a comprehensive tech stack that can cover any of your app development needs. But what is the technology required for developing a Clubhouse-like app?
Read also: How to Save Money on a Web Project for Businesses

Learn how to select the best tech stack for your web application
Clubhouse doesn't talk publicly about its technology stack, but it didn't prevent tech experts from taking a close look at how Clubhouse is built.
Different app development companies can have different approaches to recreating the most essential features of Clubhouse. Still, the core technology of Clubhouse and any audio-chat social media app is voice communication capability. If you don't want to develop this technology from scratch, there are plenty of voice APIs available in the market right now.
Factors That Affect the Final Price
The cost of app development is a complex notion with numerous factors affecting the final price. It's even more true for Clubhouse, which occupies a relatively new and uncrowded niche.
Read also: How Much Does It Cost To Create an App?

Check out the comprehensive guide on app development cost
However, it's not going to stay uncrowded for too long, as companies are now rushing to develop their own audio social media apps and get a chance to compete with Clubhouse. So how exactly are the media app costs defined and which factors influence the final price? When you are thinking about developing a media mobile app, these are the main price factors to consider:
Audience and functionality
Is your app only going to be used by a certain niche of customers or is it going to be open to all kinds of users? What kinds of features, if any, are you going to include in your app besides the audio chat feature? Those are just some of the questions you need to answer when developing social media apps from scratch.
The complexity of the app design
There are some examples of popular social networking apps that don't feature the most complex design and win users over with their bare functionality. But they are fairly rare. In most cases, you need to invest as much effort and money into the UI of the app as you do in its functionality.
Platform and device support
Is your app going to be distributed exclusively on iOS, Android, or Windows Mobile, or is it going to support all of the above? Are you only targeting smartphones or will your app also work on tablets? Making a social media app widely available increases your customer base but makes it more expensive to develop.
The process of media app development keeps going after the release. There is work to do after your app goes live. You need to research the changes in the smartphone software and hardware industries, as well as follow the digital world development to make sure your app stays up-to-date. At the very least, your app needs to be updated once a year, although more frequent updates are preferable.
How Much Does It Cost to Make a Social Media App Like Clubhouse
After seeing the success of Clubhouse and finding out that audio-chat social media apps are a somewhat new niche, you are probably wondering: can I develop an app like Clubhouse, and what does it take?
In case you're thinking about how much money Clubhouse application costs to develop and what is the minimum budget for your app development project, here is what we have to say.
A good idea is to start with an MVP or Minimum Viable Product version of an app. An application with the most essential functionality but not a lot of user experience features is cheaper and faster to create. It also gives you an idea about which features are particularly essential to your users and how the app can be changed in subsequent versions of the app.
Clubhouse Core Features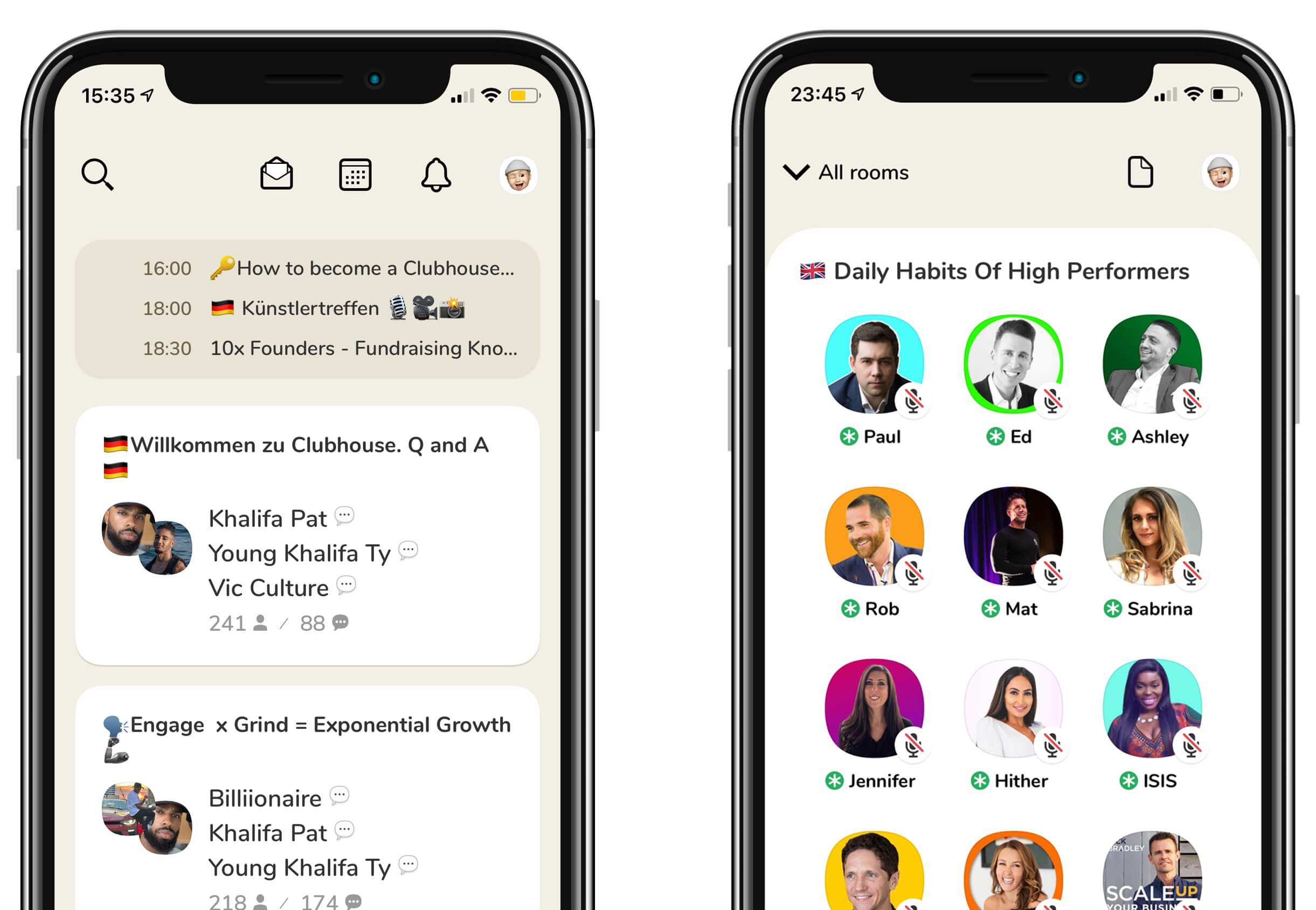 So what does the MVP of an app like Clubhouse include? These are the must-have features for an app like Clubhouse:
Rooms, where users can voice-chat about a topic while others can listen. Users need to have an opportunity to mute and unmute themselves as they wish.
Clubs, where users can form groups based on their interests. The clubs can be open to everyone or work on an invite basis.
Contacts, where users can add friends based on their interactions in the clubs or chat rooms, or find people from their phone's contact list.
Feed, where users can discover new and interesting rooms and clubs to join, as well as see the latest activity from their contacts.
Profiles, where users can fill out their profile information, and add a profile picture and interests.
Invites, allow users to invite people from their contacts or via email.
The overall cost of developing an audio-chat social media app like Clubhouse will depend on the number of features you want to include in your app and the app development company you hire to work on your project.
How Much Does It Cost to Develop an App Like Clubhouse?
To beat the competition with Clubhouse, you need to create a complex social media solution including backend, frontend, web infrastructure, and iOS/Android mobile apps. Let us look at the cost of each of these components in detail.
Backend Development Cost of Clubhouse-Like App
The backend part is what drives the whole app to work in the most logical and correct way. It is the brain of the app. No wonder, the backend is the most complex and demanding side of any application.
Below we're gonna show you the rough estimation of the minimum and maximum amount of hours required for the backend development of an app like Clubhouse.
Let us emphasize that it may differ depending on the structure of the app development team and the level of engaged professionals. This one is considered to take into account only specialists with an average skill set.
Tasks/Features
Optimistic,
hours
Pessimistic,
hours
Project Documentation
80
120
Cloud infrastructure setup
32
48
Database setup
32
48
User accounts
24
32
Authorization
24
32
Invites
16
24
Social integrations
40
56
Notifications
24
32
Sound streaming
64
80
Rooms
32
40
Social interactions
32
40
Events
24
40
Upcoming events/Search
32
40
Chat
24
32
Content moderation
24
32
Analytics
48
64
Reports
16
24
Total
568
784
Frontend Development Cost of Clubhouse-Like App
The same approach in estimation relates to frontend development and web administration functionality creation.
Tasks/Features
Optimistic,
hours
Pessimistic,
hours
Authorization
16
24
User lists review
24
32
Analytics review
48
64
Reports review
32
40
Ability to suspend users
16
24
Ability to create events & rooms
24
32
Total
160
216
Mobile App Development Cost of Clubhouse-Like App
Here is the most exciting part as the Clubhouse app is more of an iOS mobile app. Since there is currently no Android app, every business has all opportunities to beat the Clubhouse competition winning the attention of Android device users. Here is a rough estimation of how much you may invest to reach it.
Tasks/Features
Optimistic,
hours
Pessimistic,
hours
UX design
80
120
UI design
80
96
Authorization
16
24
User profile
24
32
Settings
24
32
Social integrations
40
56
Notifications
24
32
Upcoming events
40
56
My events
24
32
Invites
16
24
Search
16
24
Rooms
40
48
Voice processing
64
80
Chats
16
24
Report
16
24
Analytics
80
96
Social interactions (follow, Block)
16
24
Stores submission
24
32
Total
640
856
Concluding the rough estimation made by our business analysts, the total amount of development time for the Clubhouse-like app development ranges from 1368 to 1856 hours.
Depending on the app development company and their geography, the total Clubhouse-like app cost may vary:
Eastern Europe: $68,400-$92,800 (based on $50/h)
Central and Western Europe: $136,800-$185,600 (based on $100/h)
USA: $205,000-$278,400 (based on $150/h)
Australia: $136,800-$185,600 (based on $100/h)
That's not to mention, that if you will want to add more cutting-edge features eventually, the price will likely go up, especially when you wish to use specific technology in your project.
As for the total development time, it may reach around 4-6 months with the development of the aforementioned functionality. So you better hurry up!
If you wish to get a more detailed estimation of your own social media app, contact us directly!
Which Industries Are Benefiting From Social Networking Apps?
A social media application is one of the most in-demand types of apps in the app development business of today. If you look at the big picture, nearly every industry can benefit from having a dedicated social networking app. Here are the five industries with the most sizeable benefits from social network apps:
E-commerce
E-commerce is an industry that continues to thrive and is actually one of the few industries that were not negatively affected by COVID-19. Social networking can do wonders for e-commerce, bringing the retailers and the customers together over their shared interests.
Finance
Finance is typically imagined as an industry with little to no human interaction, but this is actually not entirely true. Finance can be one of the industries to benefit from social networking apps because regular customers will always want to hear from industry experts and share the latest insights.
Healthcare
Healthcare is an industry that is absolutely essential but its level of accessibility is not the same for different categories of customers. A healthcare social networking app can be an effective solution to this problem. With the help of this app, patients and healthcare professionals will get a convenient and widely accessible way to interact.
Technology
Technology is another industry where it seems like there are limited opportunities for interaction between the business and its customers. However, technology is also an industry with the fastest development speed. Customers will always want to stay in the know and a social media platform can help them with it.
Media
Media is an industry where communication is downright essential and can enrich the customer experience. Whether you deal with the news, TV, music, or other types of media, a dedicated social networking app can help you build a stronger connection with your customers and turn them into loyal followers.
Final Thoughts
Clubhouse may not have been the first voice-based app, but it's an app that came farther than any of its competitors to date. However, there is still room for a new audio-chat app to arrive and revolutionize the industry.
With a bright idea, an understanding of how to make a social media app, and a reliable partner to execute application development services, success won't keep you waiting. Entrust your business to experienced media app developers and make your idea work!
Inspired to beat the success of Clubhouse? Let's create a social media app that is able to go viral globally!